2006 Honda CR-V EX
Crown ePrice: $12,421
We're Sorry. The
Crown Honda Southpoint april-2013
offer has expired. Please inquire about our current promotions!

Driving Directions
Sales Dept. Hours
Mon-Fri: 9:00 am – 9:00 pm
Sat: 9:00 am – 6:00 pm
Sun: Closed
Service Dept. Hours
Mon-Thurs: 7:00 am – 11:00 pm
Fri: 7:00 am – 6:00 pm
Sat: 7:00 am – 5:00 pm
Sun: 11:00 am – 5:00 pm
Honda Civic Is First Compact to Earn Highest Safety Pick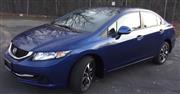 The Honda Civic has long been known as the go-to vehicle for families and individuals of all lifestyles that seek a consistently comforting and rewarding driving experience. On top of this, the Civic has proven itself as a safe option. Now though,...
Honda wins three big awards in Kelley Blue Book's 2013 Brand Image Awards study.
At Crown Honda of Southpoint, we are proud of the strong reputation that Honda has built over the years. That's why we're excited to announce that Honda has won three awards in Kelley Blue Book's 2013 Brand Image Award study. Honda was named the...
Spruce your vehicle up for spring
You and your car survived the winter. Thanks to your preparation and careful driving, you stayed on the road and emerged from the thaw without incident. Before breathing that sigh of relief and going on your way, spend some time preparing for the...
The Odyssey has excellent residual values and a very competitive total cost of ownership. Add in the fact that it was awarded a 5-star government safety rating in recent years, and it's easy to see why this highly regarded minivan has...
Five tips to help you get the most from a rental or loaner vehicle.
Ever since Dr. Oz encouraged Oprah to drink his favorite morning green drink on her show, the green smoothie craze has been motivating people to hop on board.
Learn the pros and cons to ocean, mounting, camping, and amusement park family vacations.